Home Is Where the Heart and the Work Is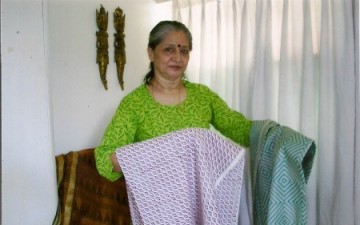 Work From Home (WFH) vocations are increasingly becoming popular as more women are able to multitask and manage their time effectively through flexible working hours.  A WFH vocation is not a cakewalk. One must be willing to work hard, persevere and always approach matters with a positive frame of mind.
We, at IndusLadies, thought it would be best to understand this trend from an expert and here is the story of Mrs Pushpa Jaypal, as she shares her experience with Piya Jayarajan.
Pushpa Jaypal, a housewife from Chennai with strong business acumen and a never-say-die spirit, has been working from home for close to ten years.  Prior to this, she was a preschool teacher and later moved onto to become a manager for Tupperware when it was first launched in India. This experience equipped her with the required marketing skills which proved useful for her own venture. Pushpa makes moulded dark chocolates in various flavours and shapes. Her business is dependent on festive seasons, and special orders round the year, and storage of these chocolates during off-season is vital to maintain freshness of the product. Her other passion is block printing on fabric.  She prints on Kerala Kasavu cotton saris, Kasavu duppattas, and salwar suits. It gives her immense satisfaction to mix and match exotic colours and use the patterned wooden blocks to create designs of her choice. Special care is taken to ensure that no two products are identical.
Did you take up these activities by chance or have they always been your hobbies?
Chocolate making started as a solution to my family's needs which evolved into a hobby and later graduated into a commercial activity. Fabric printing has always fascinated me. Experimenting on Kerala Kasavu saris has been rewarding.
Apart from the initial hiccups, have you faced any other hurdles in your journey so far? How did you overcome them?
Starting hiccups were never of any large magnitude, although minor problems do crop up now and then. But, there are no serious hurdles in this line of activity. Sticking to the schedule when my printer does not finish work or the unforeseen delay due to rains are some concerns.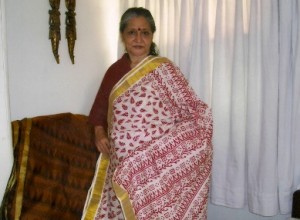 Don't miss our exclusive content. Follow Indusladies
Joke of the Day
Thought for the Day
Photo of the Day
Daily Fortune
Daily Poll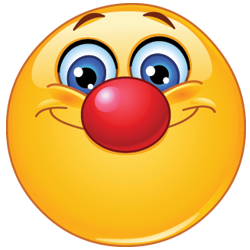 Jinn Duped
Once, a Chinese, an Englishman and an Indian were travelling by a ship. Suddenly a Jinn appeared and said, "Throw anything in the ocean. If I find it I will kill you. But if I can't find it, I will be your slave forever."
The Chinese threw a needle. The Jinn found it and killed him.
The ...
continue reading...
MORE FUN STUFF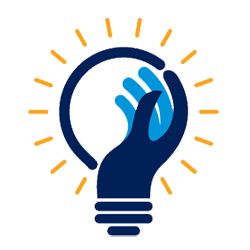 Thought for the day!
I have insecurities, of course, but I don't hang out with anyone who points them out to me.
-Adele
MORE FUN STUFF
Monday, May 30th, 2016
What's in store for you today?
Choose your fortune cookie to find out!
Cookies Opened Today :
31
MORE FUN STUFF
Loading ...
MORE FUN STUFF