The family, children and other domestic commitments sometimes pose a big challenge to women who have been working or wish to do so. In spite of being qualified, it may not be possible for a woman to sometimes go in for a regular job. Is a home-based business then a feasible idea? Is it possible to turn your interest into a full-fledged business venture that allows you the flexibility of being at home and also doing what you like most?
Read on, to hear from a talented and enterprising food blogger, Priya Dharsini, who has turned her passion for baking into a successful and growing home-based business, in conversation with Vandana Rajesh.
Priya, how would you describe yourself?
I am full time home maker and mother. I did my post graduation in IT and Management. I run a home-based baking service and deliver fresh feast for all occasions.
When and how did you decide to begin your baking business?
I made a Barbie cake for my daughter's second birthday, which was celebrated at a social gathering at the Rotary Club. The cake vanished within a few minutes. Then I tried many baking recipes and luckily many turned out very well. When my daughter joined school, I had plenty of time at hand, and decided to bake professionally. I came across an advertisement for a 'Chocolate Fair' in Chennai, and I decided that this is the best place to showcase my products.  I had a talk with the organizers of the exhibition and put up a stall for three days in the Chennai Trade Center. The products were all sold out within an hour.
Have you actually gone in for a professional baking course before you decided to start the business?
No, I don't own any professional certificate in culinary nor in baking too, however, I do attend a lot of workshops by chefs and food experts.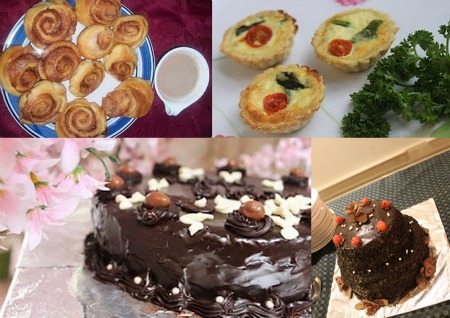 How long does it take for someone to set up a home-based baking business and what are the key aspects one has to look into?
Firstly, they should meet legal and financial advisors. Secondly, if they aren't good enough in baking, then they can undergo professional training in baking. Third is the setting up the professional kitchen to start their venture, and last but not the least is the promotion and advertising, by word of mouth, media or any social networking sites.