A Granny's Most Beautiful Grand Daughter

By: BHAVNAM6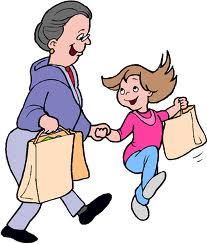 Editor's Note; There are stories and then there are stories. These touch you, These make you think, These make you smile. This one reminded me of the lovely growing years that I have spent with my grand parents. They always have a special place in a child's heart. And, the child too, is special to each grand ma and each grand pa. Here is one story from our IL family member, BHAVNAM6.
You could take a nap in my time machine ride as it has to travel for long 35 years forward till you see a newly labeled grand mom.
I had to travel earlier than my scheduled trip to my daughter's house as my granddaughter arrived before time. Obviously she was not at all less thrilled to see her grand mom
.
Apparently I was ready but not quite ready with my hair, facial etc.I had prolonged to color my hair till the date of my departure as I did not want my grey hair to be seen by my granddaughter. Now as she arrived early – at that point my few black hair were struggling hard to peep out from the crowd of grey hair. Honestly all of them are desperate to turn into silver soon! (Actually I am not lying. Overall my most of the hair have decided to quit on me) 
Anyway I was gratified to be a grand mom. Technically I was already a grand mom. However I did not want to look like a grand mom!
I know it is a complex issue. I am sorry. .I give up on this. No more attempts to resolve this issue.Seriously being a Grand mom! With exhausted frontal lobe my precious part of the brain. I want to preserve this damaged piece intact for the rest of my life. So please accept this grand mom as she is. I know you all are my dear friends.thank you for being patient with me. I had to rush to the beauty parlor to hide my silver hair. What an irony of a grand mom!
I did not forget to get facial and manicure, pedicure done.Oh yeah and new fancy clothes too. What could I do.? Evidently one led to another.
I do not have words to describe when I saw my granddaughter for the first time. It is indeed a breath taking experience. Certainly blissful moments. My heart was pounding tirelessly. No no I did not have heart attack. Thank God my granddaughter approved me as her grand mom. By winking at me, My efforts to look young and bubbly did not go in vain.
With all my zeal I was ready to play young grand mom duties.
I told my daughter that we need soft side pillow for her to keep her head straight as I used to be careful when my daughter was a little baby.She decided to ask doctor about this issue. I completely understood her concern as I am a modern open minded grand mom.
307 total views, 1 views today
Don't miss our exclusive content. Follow Indusladies