The Indian toy industry has seen a sea of changes in the past few decades.
The markets are now flooded with different kinds of toys for children. But it has been see that many contain heavy levels of lead, metal and other toxic chemicals and materials.
These toys pose a health hazard to the child. Especially since they tend to chew or suck on them.  
As a parent, make sure you wean away your child from such unsafe toys and switch to eco-friendly toys.
These are safe and non-hazardous to the child as well as the environment.
They meet the global safety standards.
They are normally made of wood, organic cotton and recycled material.
They are equally attractive, do not come with nuts and bolts, thus, making play time really safe for the child.  
Listed below are few eco-friendly toys that your child can enjoy. Save your child and environment with eco-friendly toys.
Rattle: This rattle makes a pleasant sound as rattle, which stimulates the child's visual and hearing senses. It is also a good tool to develop her motor skills. Devoid of sharp edges, this toy is easy to hold and play. Suitable for ages 6 to 12 months.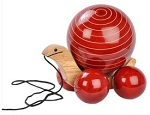 Pull-toy: As the child gets older and takes the first walking steps, the child enjoys pulling around a pull-toy. The color and the smoothness of the toy with rounded edges make walking and pulling absolute fun for the child. Suitable for ages 12 to 18 months.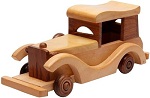 Wooden Car: This can be a perfect gift for kids of ages between  1 and 5 years, when they are busy socializing with their friends.  The brown model and the excellent finish of the car also keep the child focused to learn the different parts of a car. This also makes a perfect showpiece.
Themed Puzzles:  Improve concentration, imagination, hand-eye coordination and learning skills of your child with simple themed puzzles. The colorful wooden pieces are a visual treat for an inquisitive mind. The peg on each piece of the puzzle makes it uncomplicated for the child to focus on the task.  Suitable for ages between 2 and 4 years.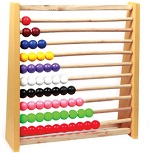 Abacus: Teach the basics of counting using the first counting tool, ever used, in the history of mankind. The colorful abacus is made of wood, non-toxic ink and food grade plastic to keep your child safe while learning.  Suitable for ages between 4 and 5 years.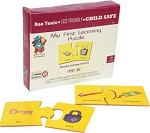 Puzzle-pair: Two-piece puzzle introduces your child to vocabulary, focus and motor skills. The child needs to match and put the two pieces together. Made of wood and non-toxic ink, this toy is an ideal toy for ages between 4 and 6 years.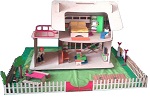 Dollhouse:  Every child dreams of having a dollhouse of her own. Make it come true with a wooden dollhouse that is 100% eco-friendly. It is easy and safe for the child to assemble and dismantle the dollhouse. Encourage creativity and imagination with this cute and dreamy dollhouse. Suitable for ages 6 years and above.