A tiring long day, and it's time to make chapattis for dinner. The idea of making chapattis for the entire family can prove to be quite a task with the traditional techniques. Many people prefer to cut out rice from their dinner menu, and instead adding in the high fiber rotis. However making a huge number of rotis can be quite a task, especially so when you have a really busy day.
The roti maker can prove to be a real good assistant and can actually wish away your dinner troubles. Now, what is a roti maker? A roti maker as the name suggests is a electrical appliance that can make rotis in minutes.
 How to Use Roti Maker
Make the dough (you need a slightly higher water content in the dough while using it in the roti maker), put it into the roti maker, lower the lid, and press the handle; and your roti is flattened into a nice thin round shape. Open the lid, and the dough begins to cook into a soft fluffy roti without any effort at all. A roti maker is definitely quick, easy and the answer to saving time in the kitchen. No trouble of rolling, and the non-stick surface ensures that the dough does not stick to the surface, even for a novice cook. It is an electrical appliance, and so you can make your rotis on it, and have the gas stove free to do the rest of your dinner. When time is at premium, this is the friend you need, to help you out.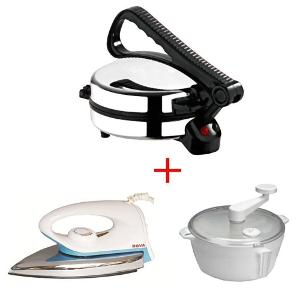 Rotimaker Advantages
The roti maker has several advantages; you can have the perfect round Indian bread and feel proud of yourself. Also it a great boon when you have a big group over for dinner, especially with unannounced guests. With absolutely no requirement of any oil, this is definitely a weight watchers delight. The appliance can also be used to make khakras, naans and even stuffed parathas. With so many advantages to its side, this home appliance is definitely any homemaker's delight. For bachelors staying away from home, and having to cook on their own, this can prove to be a good friend.
The chapattis and rotis made in the roti maker are best eaten when hot, and so you can actually have the family sitting down for dinner and make hot chapattis for them. A beginner cook can really be happy with this machine in the kitchen. With so many brands and models available in the online stores, it is now so easy to go through the pictures, the product description, and other details and purchase the roti maker. With secure online payment modes, you can now make payment and have your machine delivered to you right at your door step.
Happy cooking!!