The Onam Sadya (Onasadya) or the traditional feast is a meal served on a banana leaf with rice, a number of vegetarian dishes, banana chips, pickles and finally has a sweet ending with the payasam.
There is a specific order which is to be followed while serving the sadya as the place of each dish on the banana leaf is fixed, so much so that the way the banana leaf is placed too has to be right.
It is prepared on the 10th day of Onam or Thiruvonam and is generally the time of the year when the entire family gets together and so it is a celebration where all the womenfolk of the household make preparations and cook while the men take care of all the other arrangements.
Here is a compilation of Onam Sadya Recipes that you could make for Onam contributed by IL members.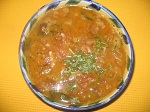 Sambar – A traditional South Indian curry which is cooked with lentils, a combination of vegetables, tamarind and spices and tempered with mustard seeds, curry leaves and dry red chillies.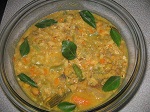 Avial – The avial is yet another delicious vegetarian dish that combines several vegetables cooked in a coconut and tamarind/yogurt based gravy.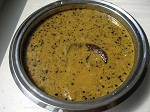 Erissery  – Erissery is yet another traditional Kerala curry that forms an integral part of the Onam sadya menu. It is a vegetarian recipe made with pumpkin in a coconut based sauce/gravy.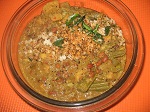 Kootu curry – A vegetarian recipe that combines kala chana and vegetables with coconut and mild spices.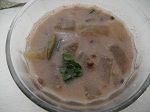 Olan recipe– Olan is an important part of the Onam Sadya menu and is a stew with pumpkins and lentils cooked in coconut milk.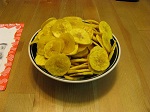 Banana chips – Upperi or banana chips and sharkaravaratti (sweetened banana chips) are the first servings made on the banana leaf alongwith the Kerala pappadam.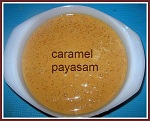 Payasam – The payasam is a traditional South Indian sweet made with milk sugar and a chosen ingredient and garnished with nuts and raisins. For the Onasadya, the Ada Pradhaman (rice flakes cooked in milk with sugar), the Parippu payasam (lentils cooked with milk and jaggery), the Godhambu payasam or the Semiya payasam is made.
Indusladies wishes you all a very Happy Onam!! Enjoy your Onam Sadya.