Ayyappan is one of the most popular Hindu deity worshiped mainly in Southern India. He is believed to be the son born out of the union of Lord Shiva and Mohini. Hence, Ayyappan is also known as 'Harihara Puthra" which means the son of 'Hari' (Vishnu) and 'Hara' (Shiva).
Manikandan
As per the legends, Shiva and Mohini abandoned the baby on the banks of the Pampa river. Raja Rajasekhara was the ruler of Pandalam. He heard the wails of the baby on the banks of the river during his hunting expeditions. Since he was childless, he was exuberant to find a baby with a divine face with a golden chain and a bell around his neck. However, when he hesitated to take the baby to his palace, a sage appeared and informed that the baby was gift of Lord Shiva and he could take the baby with him. Since the baby was wearing a bell around his neck, the King named him Manikandan and took him home. The queen was exultant and accepted him as her son.
The child grew up to be very intelligent, brave and precocious. He was proficient in all the Vedas, Shastras and the art of warfare. His teacher realized the divine powers of Ayyappan and sought him to bless his son with sight and speech as Ayyappan as 'Gurudakshina'.
The Royal Conspiracy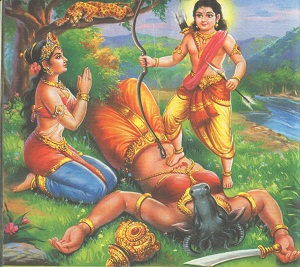 Meanwhile, the king and the queen were also blessed with a baby boy, who they named Raaja Rajan. When it was time to name the heir to the throne, King Rajashekara wanted Ayyappan to be the heir as he was the eldest son. However, the prime minister poisoned the mind of the queen who agreed to kill Ayyappan. She feigned illness and made a fake physician ask for an impractical remedy – that the queen could be saved only with the milk of the lactating tigress. When no one was willing to procure it, Manikandan came forward to go the forest, much against his father's wishes. On the way, he fought the treacherous demoness Mahishi and slew her on the banks of the River Azhutha. She also regained her original form by the divine touch of Lord Ayyappan.