After a strict adherence of 'vratham' for 41 days, pilgrims perform the Aazhi Pooja and carry the sacred 'irumudi', thus embarking on the journey to the sacred shrine – Sabarimala.
Route
Thousands of devotees still follow the traditional mountainous forest path (about 52 kms) from Erumeli, which is believed to be taken by Lord Ayyappan himself.  Pilgrims worship at Erumeli Sree Dharma Sasta Temple and perform "Petta Thullal" and also worship in the mosque at Erumeli as part of their pilgrimage.
Neelimala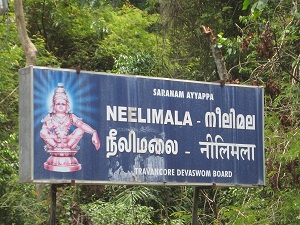 People take customary permission from the representative of the King who sits at the base of the Neelimala Hill. Pilgrims offer a token amount to the representative and received 'vibhuti' or the sacred ash before proceeding. Thus begins the steepest climb of the pilgrimage, which is a 3km trek  up to the Neelimala Hill. With constant chanting of mantra, the pilgrims make their way up through the difficult trail to reach the top of the hill where Lord Ayyappan sits.
The Temple
The temple is on a plateau which is about 40 feet high between the lofty mountains and valleys. Malikappurathamma is on the left of the Sannidhanam. Situated on a small hillock, this temple is the shrine of Devi and Kaduthaswamy. Vavar and Kadutha, the Lord's aides stand vigil at the foot of the 'pathinettu thrippadi' the most significant 18 steps in Hinduism, leading to the 'sanctum sanctorum.' The Ayyapan Swamy idol in the Sannidhanam was originally made of stone. After a massive fire, the temple was rebuilt in 1950. Currently, it is made of five metals – panchaloha and is about 1.5 ft tall.