Sabarimalai is the most popular Ayyappan shrine attracting over 50 million devotees from across the world. Pilgrims visit the shrine braving the thick forests, steep hills and rough weather to seek the Lords blessings.
Mala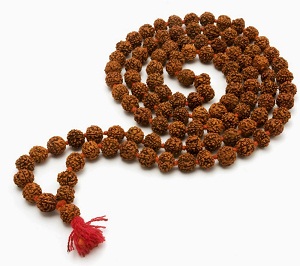 Before undertaking the trip to the shrine, devotees observe a 41-day 'viratham' or penance.  An Ayyappa pilgrim is called Ayyappa Swamy. Devotees observing the penance are expected to observe strict religious adherence. They abstain from physical pleasures and family ties leading a life of a 'brahmachari' or a celibate. They wear a special Mala (Mudraksha or Tulsi beads garland). They are expected to refrain from eating non-vegetarian food, tobacco, alchohol, using foul language and shaving. They rise early, offers prayers, bathe twice during the day and visit the temple regularly during the penance period. They wear the traditional black or blue dress (dhoti, shirt and small shawl or towel). People walk bare-feet, sleep on the floor, attend religious discourse and help the poor and the sick. Pilgrims also carry a Tulsi leaf to keep away from negativity.
Sabarimalai is predominantly linked to men of all ages. Women between the ages of 10 and 50 are not allowed. As Ayyappan is a celibate, the Sannidhanam prohibits the entry of women in the menstrual age group.
Aazhi Pooja/Vellamkudi
Aazhi Pooja is one of the important events for the pilgrims of Sabarimala. The pooja is conducted on an auspicious day before the pilgrims start the pilgrimage. This ritual is also known as Vellamkudi, or quenching one's thirst. It symbolizes to remove the impediments in the quest of God-realization. The devotees experience bliss once these are removed from the mind. By leading a life of a celibate, the devotee attains some degree of purification which eventually culminates in Aazhi Pooja.