The various forms of dances in India vary with the different cultures present in the country. It represents the traditions, practices and religious activities of the geographic, state and ethnic regions. The sacred art forms of dance trace back to Bharat Muni's Natya Shastra. Mythology mentions that Lord Brahma, the god of creation, encouraged Bharat Muni to compose the Natya Shastra, through which, emerged the performing arts of dance and drama. The Government of India has setup the Sangeet Nataka Akademi for Dance and Drama as the prestigious body to recognize and encourage the performing arts of the country in dance, drama and music. Seven forms of classical Indian dance have prominent status.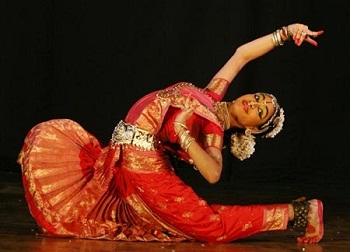 Bharatanatyam, Tamilnadu
Originating in the state of Tamilnadu, Bharatnatyam, is the dance form of 'sadir', which represents, "bhavam", "ragam" and "talam". Bharathanatyam is well-known for its unique poses that strike wonderful poses of grace, charm, purity and endearment. Nritta, Nritya, and Natya are three types of dance forms in Bharatanatyam. Nritta is a form of dance that is devoid of expressions or emotions while Nirtya emotes and expresses meaning through the hastas. Natya is a style that portrays a character. A number of male and female dances all over the world now practice this well-known dance form. Jewelry, anklets, costume and carnatic music are some of the important aspects of Bharatanatyam.
Kathak, Uttapradesh
This form of dance dates its origin to the Kathakars or the storytellers of northern India. Jaipur, Lucknow, Benares, and Raigarh are the primary schools or gharanas of Kathak. Certain styles, techniques that are passed from guru to shishya has given birth to these distinct styles. The tempo of conventional Kathak progresses from slow to fast often culminates with an expressive climax. There are also compositions that consist a lot of footwork. The female costume comprises of Ghunghroo or the small bells with a costume of lehenga-choli combination. Kurta-churidhar, dhoti or dancing bare-chested are different adaptations for the male dancers.
 Kuchipudi, Andhrapradesh
Kuchipudi shares common elements with Bharatanatyam and is performed to classical music. Attractive expressions, expressive looks and emotions with graceful movements represent this dance form of Andhrapradesh. A composition of song and drama sets the mood for the performance. Nattuva and Natya Mela are two types of Kuchipudi dance styles. Lord Krishna and Shiva are strong inspirations for the dramas. Music, stage-design, dance and makeup are some of the diverse aspects of this dance form.