Sarees have been around since the time we know, and yet it gets itself invented, reinvented, recreated and redefined with every user and designer.
What makes it so popular and appealing?
Saree is a wonderful creation. It gives that sensuous touch, feminine appeal, and gives the wearer an absolute ladylike feel, with a special spark and charm.
Every bride, no matter how modern you think you are, has a saree as a part of her trousseau.
Do you wonder why some sarees make you look thin and some make you look as if you have put on a couple of kilos? If you choose the fabric wisely, it will drape well on your body and compliment the curves.
Just follow the below basic guidelines on how to choose sarees.
For Social or Informal Occasions:
If you are slim and below your weight range, then wear cotton saree, tissue saree, cotton silk or brocade sarees. Basically the fabric of the saree should be little heavy, so that it makes you look healthy. Choose well fitted petticoat. If you have broad shoulders than make very simple blouses.
If you are on the healthier side, or have a bit of variation at the waist, than wear georgette, chinon or chiffon saree. This will make you look attractive and appear slimmer. Also choose blouses wisely. If your bust is also heavy than don't opt for halter blouses or very deep necklines. Women with a variation at waist should avoid net sarees. Choose medium motifs or design for your saree.
Net and lace sarees are very in, this season. These fabrics are very delicate in appearance. But if teamed up with inappropriate blouse styles than they can look very messy.
Sarees fits with ease, since it is not cut nor tailored for any particular size. So it is important to drape the saree well. The border draping should be in line. The Gujarati style of draping makes the lower bodies look heavy so people with heavy waistline should avoid it.
The kind of blouse styles you choose is very important. Halter neckline, noodle straps, backless are best used for a party kind of scenario, while for a traditional occasion use more of a moderate style. For example if you like halter, than get stitched a deep shoulder set.
Like blouses, petticoats also play an important role. For a net saree, you cannot use cotton petticoat. For a net saree use satin, brocade or shimmery material petticoat. For a brocade saree use satin or a pliable material for your petticoat.  Cotton petticoats may be used for cotton sarees, and silk sarees.
For Professional Wear:
For professionals who prefer saree to work, there are excellent choices in cottons and silks.  Have geometric or abstract borders and the length of the borders should be anything from one inch three inches.
In professional wear, always keep the saree and blouse simple. Have collars on your blouse to bring up the authority, or at least have half to three quarter length of sleeves. Keep the net and chiffon sarees for informal occasions only.
Drape your saree very well. Airlines and hotel industry is the best example of how to wear a saree in a workplace. Always pin the saree at proper places. When you are at work, you don't want people to have a wrong impression about you.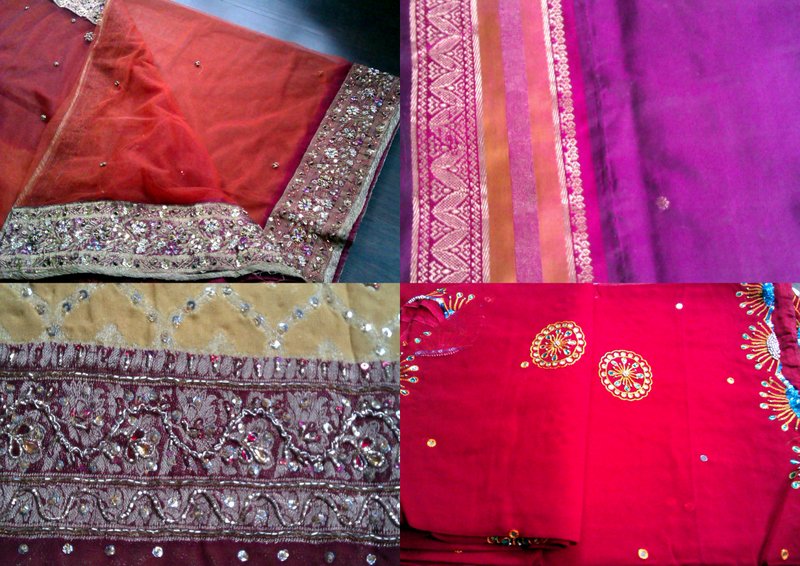 Reinvent Your Old Saree:
Use your old sarees in a couple of different ways, but get a good tailor to do it, and have a proper vision of what exactly you want to do.
Use your old saris and lehengas with kalis or panels, and transform them into beautiful Anarkalis. The sari borders can be used as a beautiful border on the bottom of the Anarkali and used to detail the dupatta.
Get your old silk saree and stitch it into a jacket style suit, with contrasting silk cigarette pants or straight pants. If it's a printed saree, than put some Swarovski stones on the neckline and/or sleeves. For a dressy look, team it up with matching stone studded sandals and a gorgeous clutch bag.
If your saree fabric is too fancy for you to use in making a salwar kameez, use it as covers for beds, or make fancy throw pillows.
Did you know, in the early stages, people of both sexes wore the saree? It became more refined, adjustable and in tune with the gender needs of men and women.
With passage of time, the garment came to be known as dhoti, and made in tune with the physical appearance of men folk. And with women, the garment's name remained the same, a saree.