Arabic mehandi designs are known for its intricate and mind-boggling patterns. Contemporary Arabic mehandi designs are a classic combination of traditional middle-eastern artwork with modern tapestry design. Arabic mehandi designs are known for their floral and ornamental designs.  They are bigger in design in comparison with the Indian mehandi designs.
Take a look at some stunning Arabic mehandi designs before you apply mehandi for a special occasion. 
Design #1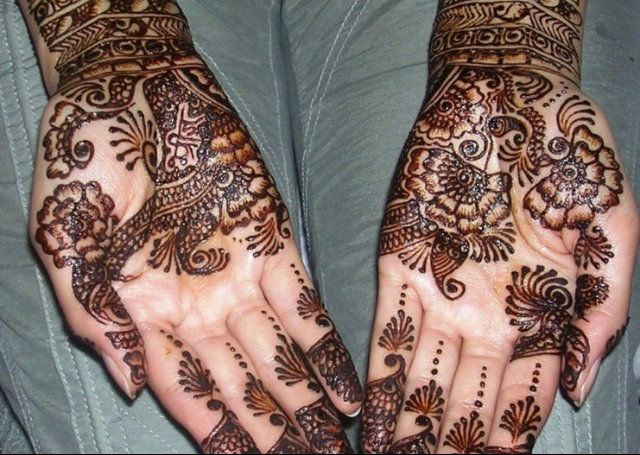 This beautiful design gives a filling effect to the hands with intricate designs on the fingers. 
Design #2

This well-crafted design resembles the Haath Panja hand jewellery design that has a bracelet with decorated creepers attached to the ring finger.  It is further embellished with unique designs for each finger.  A great choice for any occasion. 
Design #3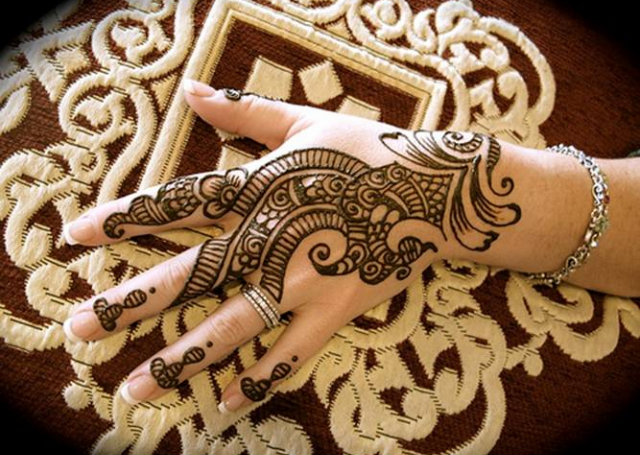 This simple and appealing design makes it apt for any type of dress and occasion.  It is a great option for those looking for elegant and simplistic patterns without making the hand look messy. 
Design #4
Filling designs like these are perfect for weddings and is also a great fit for the bride too.  Beautiful patterns are on both the hands look different on a single hand, but opens to a graceful heart shape on joining the hands together. 
Design #5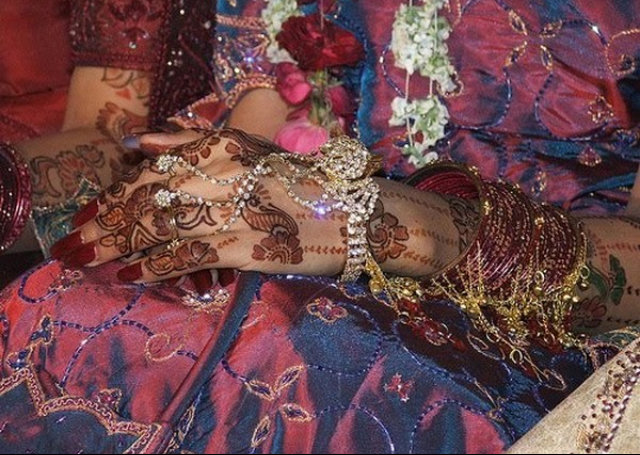 Without many intricacies, with few flowers that are drawn far and between attached to a mango motif makes this design look easy and uncomplicated.
Design #6
The use of black mehandi makes Arabic mehandi designs look prominent and beautiful. If you love mehandi on your feet, you can try this beautiful design that covers most of the feet space.
Design #7
This design makes use of flowers and large motifs with a trail of little dots all over the hand. The design looks filling yet looks uncluttered and gives a glamorous look for the brides. 
Design #8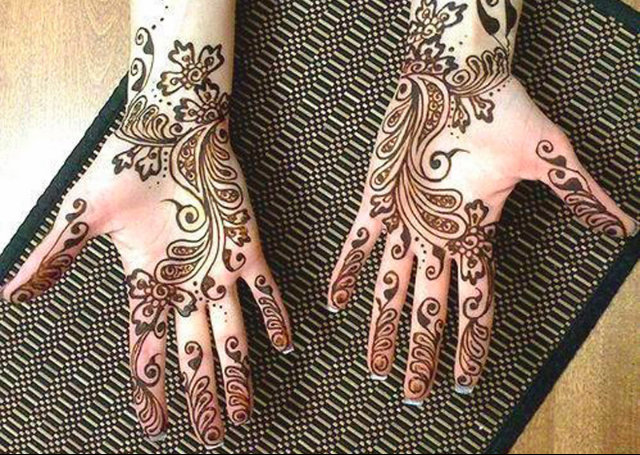 This design as a large black tulip design that covers the palm with its extended creepers on the fingertips, that looks aesthetic and dashing. 
Design #9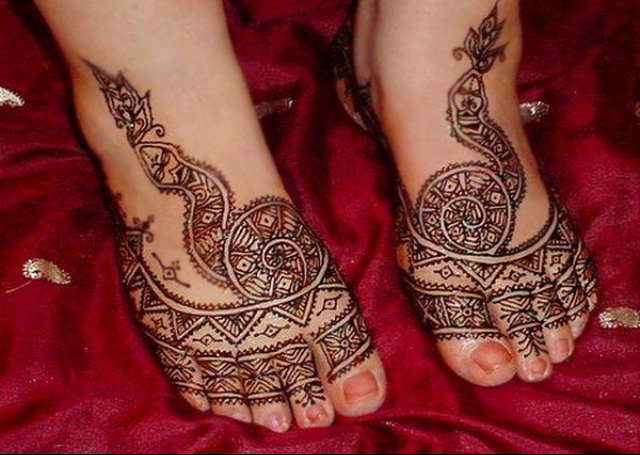 If you are feeling intrepid, how about snakes that crawl up the ankle? The intricate scales on the body of the snake make the feet look grand for any occasion.
Design #10

Give a floral tribute to your beautiful feet with this stylish floral mehandi design. Ideal for the bride's feet, this design is sure to draw people's attention.
Design #11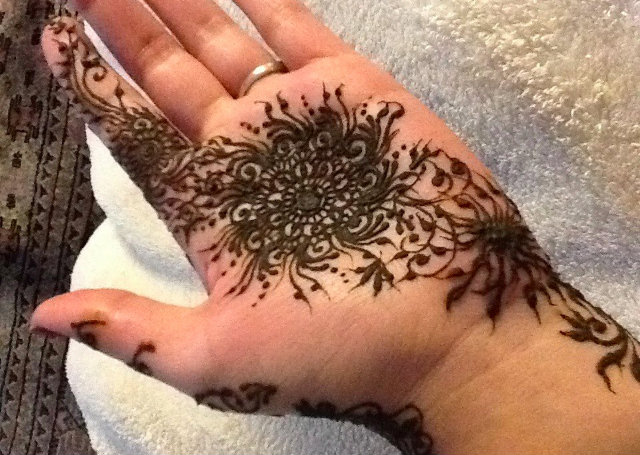 The large floral motif that spreads from the center of the palm is a great option for those who want to keep the decoration artistically simple. 
Design #12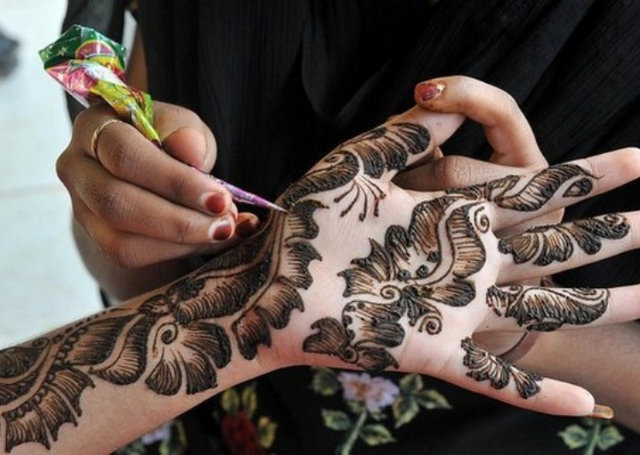 Feel like the goddess of forests with thick floral creepers adorning your graceful hands. The fine lines that shade the design makes it look grand and beautiful. 
Design #13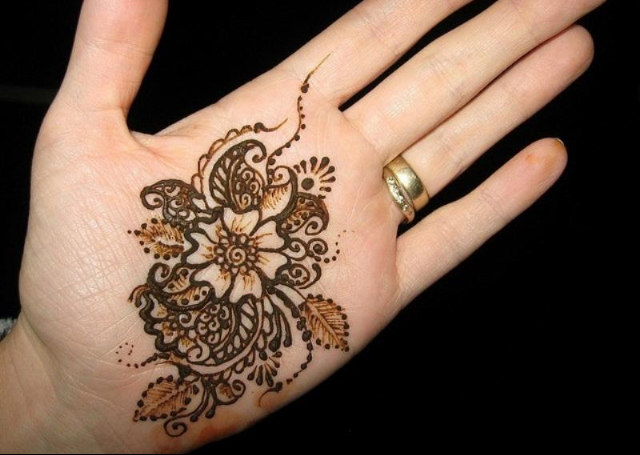 This simple and soft floral design is perfect for people who want to keep it plain without ornamentation. This is a great DIY design making it apt for beginners.
Design #14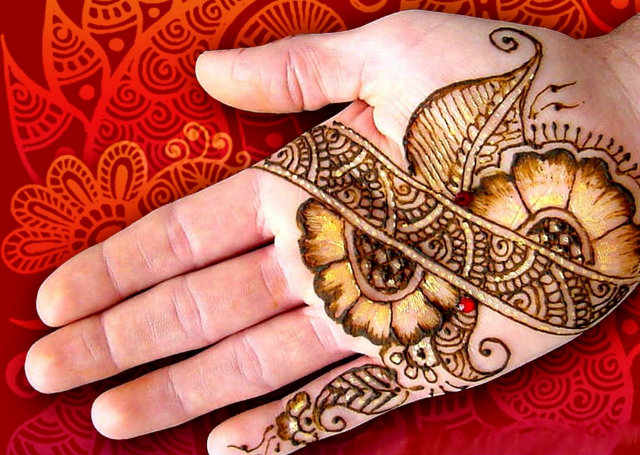 A simple bouquet of flowers wrapped around a diagonal motif is a cool design for parties, engagement and other such occasions. Make it look glamorous with a touch of golden shimmer and stones to the design. 
Design #15
Finely balancing between heavy ornamentation and elegance, this design starts from the wrist-base, spreading at the center before it tapers towards the index finger, making the design look unique and creative. 
Design #16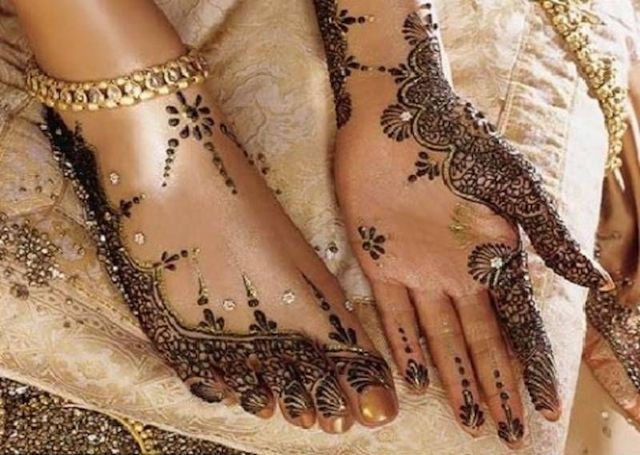 This simple yet strikingly beautiful design covers less hand and feet space highlighting the side of the feet or hand. Add glamor by adding glitter and stones in the design.